Update 2015: The discount tickets for Provincetown Fast Ferry on Groupon are sold out 🙁 However, you can still find select discount tickets aboard the Provincetown Fast Ferry for the 2015 season!
If you plan to head to Cape Cod this summer, you may want to take note of this Groupon daily deal for the Provincetown Fast Ferry! That went fast!! Roundtrip tickets are $58 for adults. (Tickets for children are $30 and should be bought separately directly through Boston Harbor Cruises.)
Reservations are required for weekends and holidays.
Promotional value expires on October 13, 2014 and there is a limit of 1 per person per visit, but 2 additional can be bought as gifts. To see all terms and conditions, please head here.
Boston Harbor Cruises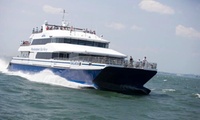 $58 for a Roundtrip Ticket to the Provincetown Fast Ferry from Boston Harbor Cruises ($88 Value)
Even better, make sure to use promo code LOCAL15 to save 15% on all local Groupon deals. (Max discount is $50.) This promo code expires on Friday, May 9, 2014 just before midnight!
*I am an affiliate partner of Groupon, and get thanked if you purchase through my affiliate link. Please read my disclosure policy here.